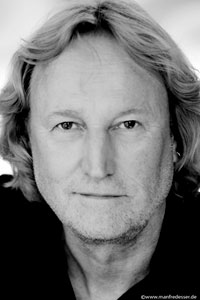 After his education at a photo studio in Cologne for portrait and theater photography, Manfred Esser gained experiences as an agency photographer until he went into business for himself 25 years ago by opening his own studio.
Manfred Esser has become well-known for his work as a people photographer. He works in advertising, fashion, music and photography for leading brands and companies, such as BayerAG, Heinz, Rewe, Christ, LG, Ratiopharm, WDR, RTL, Sony, Universal and EMI. The photo shoots and video productions are held together with his large team in his own studios, but can also be realized at any other desired location from a yacht to a helicopter or at the most beautiful places in the world.
Manfred Esser is convinced that no one can resist to the fascination of expressive photography. But it would not always be the aim to make anyone look beautiful or sensual. He is also very much concerned with the credibility and authenticity of the portraits, the implementation of which Manfred Esser always perfected further.
His list of prominent, mostly long-term customers is large. These include actors, athletes and artists of the German and international film, sports and music scene, such as Mario Adorf, Michael Ballack, Harry Belafonte, Dieter Bohlen, Jurgen Drews, Oliver Geissen, Herbert Grönemeyer, Kate Hall, La Toya Jackson, Oliver Kahn, Anna Maria Kaufmann, Heike Makatsch, Carmen Nebel, Sally Oldfield, Wolfgang Petry, Stefan Raab, Matthias Reim, Bärbel Schäfer, Johnny Logan, and many, many others… Reference list.